Our data and insights tools
were built specifically for the industry, bringing advanced analytics, statistical modelling and machine learning to longitudinal healthcare data.
Prospection is a ready-to-use platform providing analytics tools to work with real world datasets (RWD) providing RWE and insights for the US, Japan, UK, Australia, New Zealand, China, Sth Korea. The platform employs longitudinal-data-trained algorithms with deep, built-in condition expertise to deliver market-ready intelligence.
Pharmaceutical companies wanting to understand brand performance, market position and sources of business use Prospection's Market Insights to identify opportunities to guide medical, marketing and sales strategy and tactics with patient-centric, real-world data.
Pharmaceutical companies needing to identify opportunities to improve patient outcomes and utilization of their products use Prospection's Treatment Insights. Track treatment adherence and persistence and develop effective in-market strategies and activities based on real-world evidence and actionable insights.
Identify patterns of patient-use of brands in the real world, exploring behaviors, usage and events of interest that help refine in-market positioning and messaging, and improve outcomes over the course of the patient journey.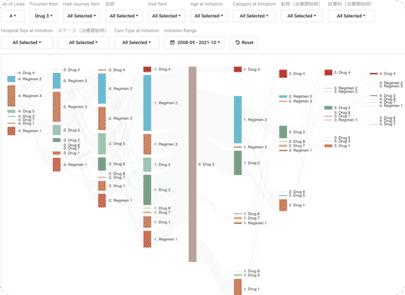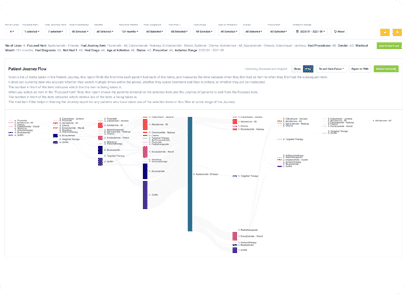 Pharmaceutical companies needing to access patients for their brands use Provider Insights to identify patient cohorts of interest and locate providers. Guiding messaging and activities that influence those providers to improve patient outcomes with the best available treatment.
Establish common characteristics across large patient datasets that allow you to create cohorts for targeting treatment support, provider influence and improved patient outcomes.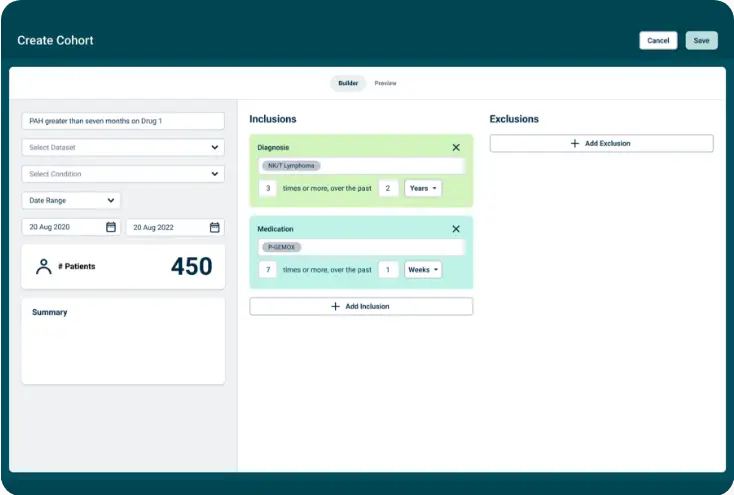 Explore a cohort of interest, comparing key measures against census data or specified control cohorts, and get contextual insights to prompt and guide deeper investigation.
Set evidence-based triggers and compliance-based triggers that alert you to cohort-specific events or patterns, enabling opportunities for real-time interventions and patient or provider finding.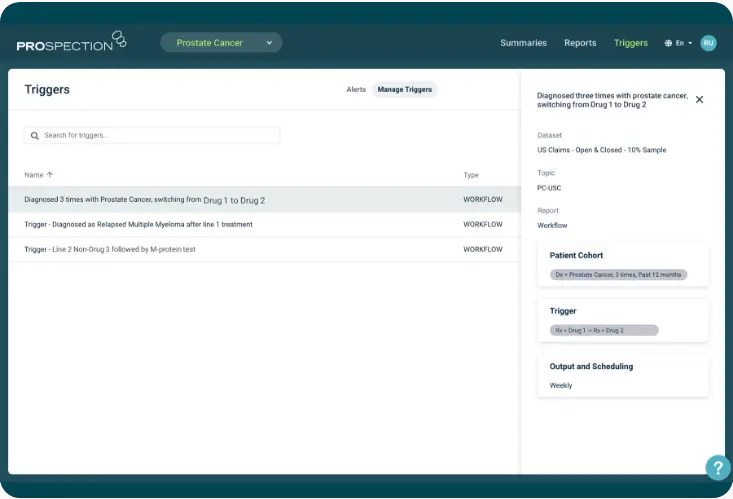 Prospection Labs - Services

Subpopulation Insights
Targeting and optimizing treatment interventions and predicting their outcomes within and across patient cohorts using machine learning and advanced analytics.
RWE Publication
Full end-to-end solution using multi-source RWD and our advanced analytics platform to enable faster access to insight generation for publication.
Clinical Decision Support
Identifying gaps in real world HCP practice compared to guidelines, identifying behaviors underlying current practice and delivering RWE-powered next-best-action to influence better clinical decisions.

Market Assessment
Analyses and modeling of current and future unmet needs, drug utilization studies and HTA model inputs to support market access and optimal use of in-market medicines.
*Products and services are data- and regulation-dependent, and may not be available for all countries